This holiday season we are paying to unite your family
Missing someone this holiday season? We'll pay to bring them home!
Do you have a family member(s) that lives far away? Do finances hinder your ability to see each other? We want to help you spend the holidays together.
Tell us your story and you could be selected to spend this holiday season together as a family.
Holidays are a time to be together. Let us help make it possible.
No strings. No catch. Just a gift from our family to yours.
Submission deadline: Sunday November 27th, 2022 at Midnight 
Wishing you a very happy holiday!
Submissions must be double-spaced and in.doc, .rtf or .pdf. They should not exceed 500 words in length. Please ensure that your name and contact details can be found on all pages of your submission. The contest winner must be willing to submit a holiday picture of their family for use in future promotions of the contest.
Whynot Family
2019 Contest Winner
Olivia moved to Vancouver to go to University and unforeseen circumstances prevented her from being able to buy a ticket to fly home for Christmas. With her sister purchasing her new house and wanting to spend time with her Grandparents BKIFG flew Olivia and her boyfriend to Ontario to spend Christmas with her family.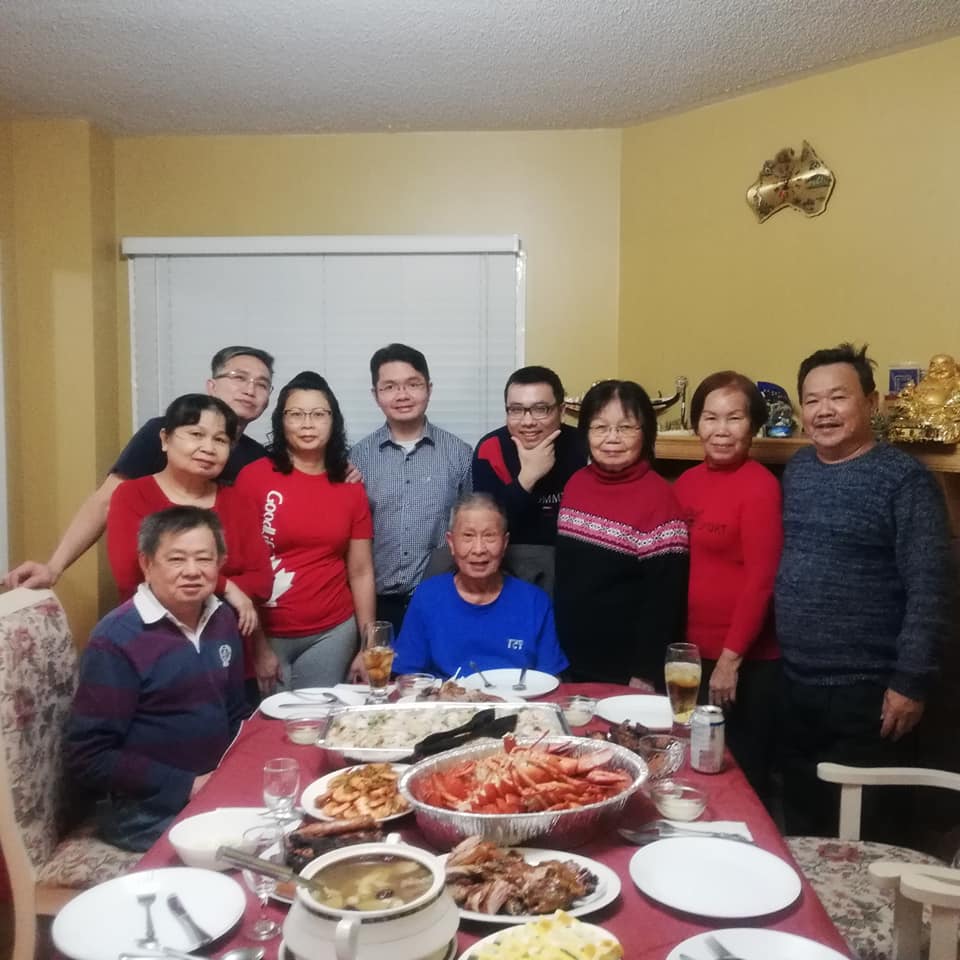 The Kit Family
2018 Contest Winner
A reunion 4 years in the making! In 2014, Chanmolika was selected as the recipient of our Home For Holidays contest.
Unfortunately, two failed Visa applications prevented her family members in the Philippines from celebrating Christmas with Chanmolika, her parents, and extended family here in Canada.
Finally, in November 2018, her Great Aunt and Uncle applied for their Visas and were APPROVED!
Chanmolika was able to spend the holidays with them for the first time in 22 years!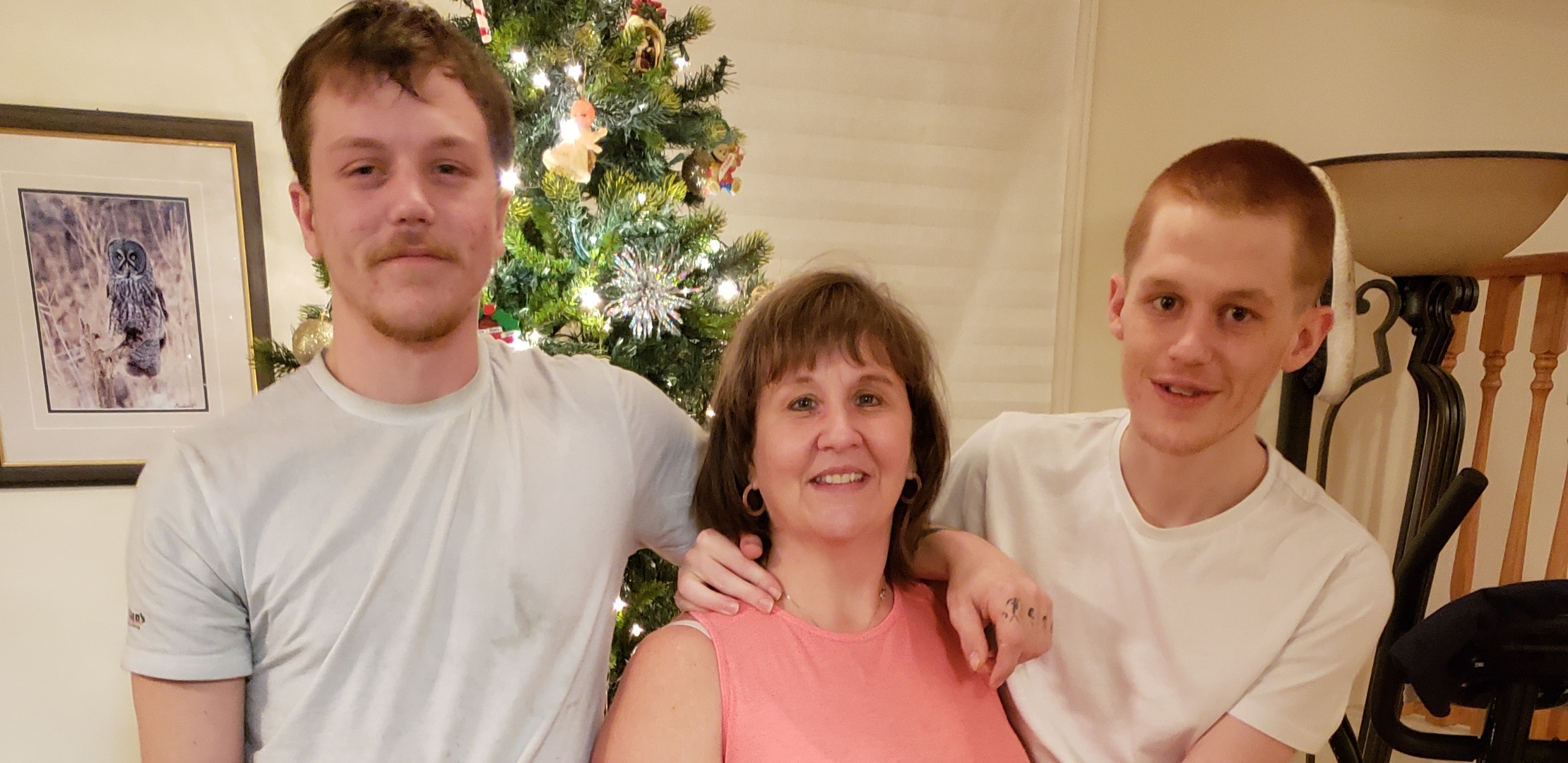 The Slitcher Family
2018 Contest Winner
After surviving stage 3 cancer, all Kerrie wanted was to spend Christmas with her son, Ryan, who moved out to BC in 2014.
The past few years had been tough for the entire family, as they had also recently lost Kerrie's brother to a sudden heart attack. Her brother was Ryan's only relative out in BC and Kerrie hated the thought of Ryan being all alone for Christmas.
Her wish to see him sitting at their table on Christmas Day was granted, and she was able to spend a holiday to remember with her son.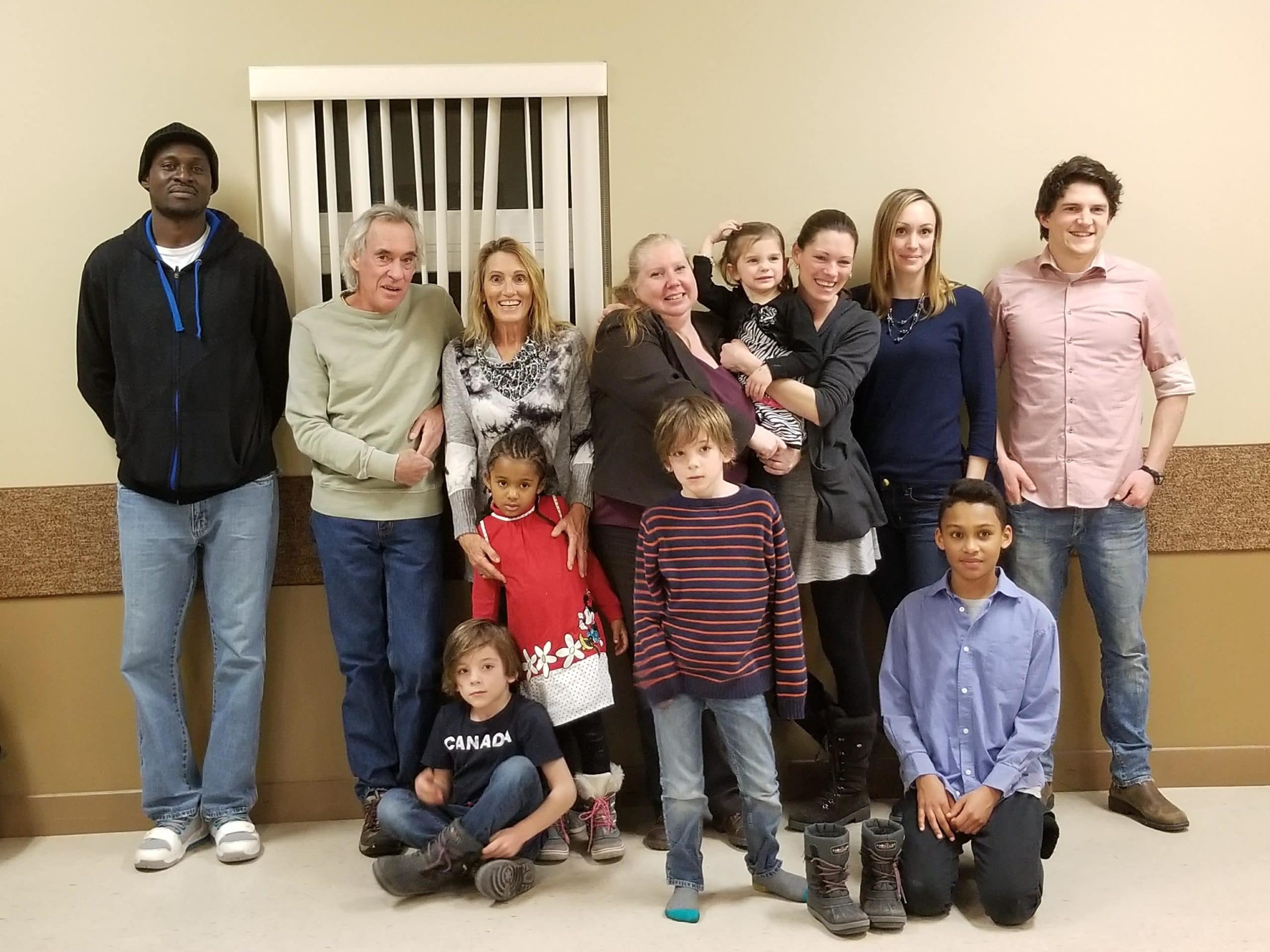 The McDougall Family
2017 Contest Winner
We were delighted to reunite these sisters and their families for the holidays!
After Petra settled down to start a family in Alberta, the long-distance made it difficult to share quality time together with siblings and cousins back in Ontario—especially after Petra's 3-year old daughter was diagnosed with a brain tumour.
Thankfully, the tumour was removed successfully, although health remains an ongoing source of concern.
This Christmas season, the family received the miracle of good health and longed to find a way to spend the holidays together.
Home for the Holidays was grateful to have the opportunity to rejoin these families after many years apart, giving them a chance to enjoy the holiday season together.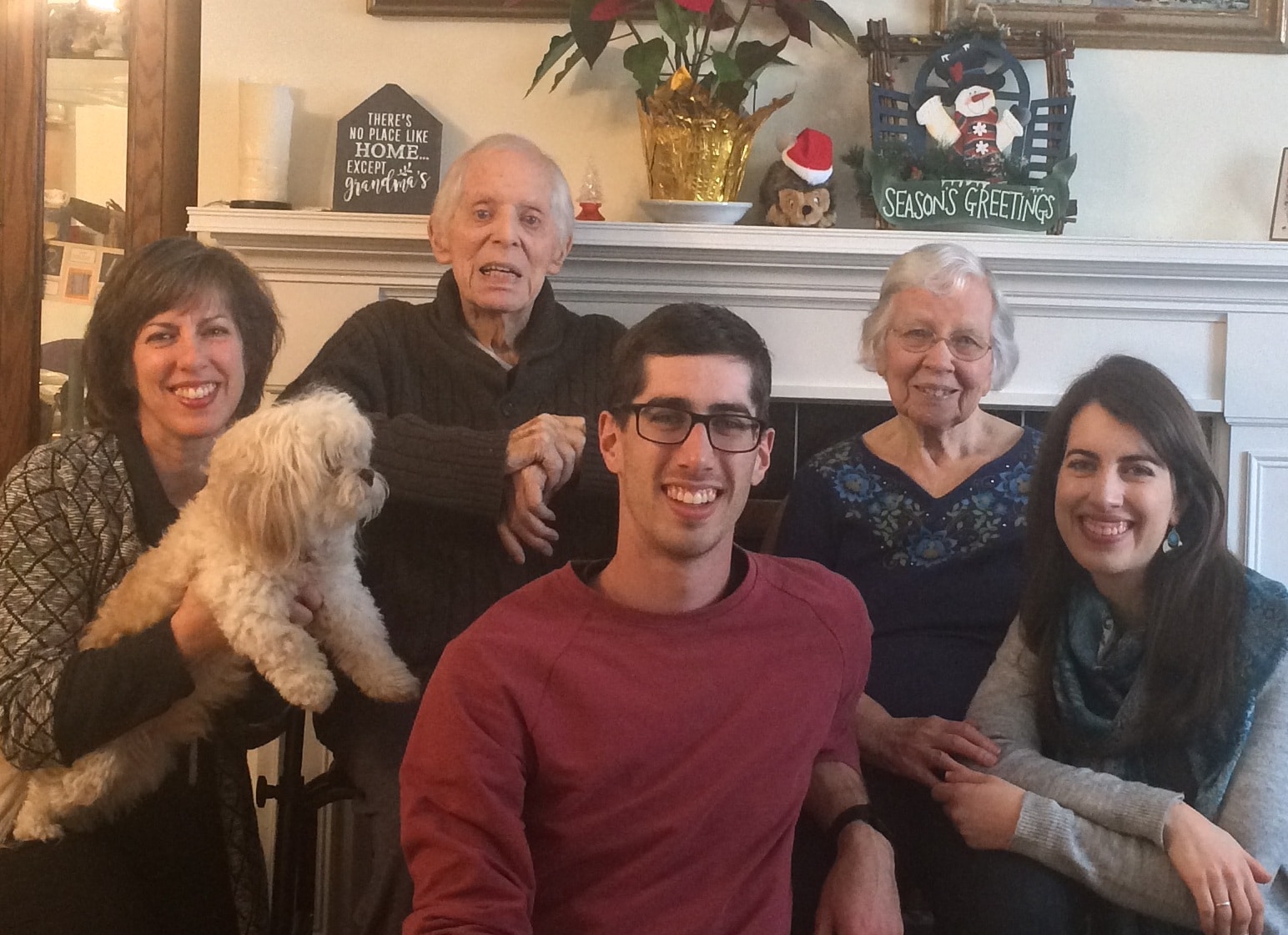 The Millican Family
2017 Contest Winner
It was our privilege to reward Geoff's generous volunteer work by reuniting him with his family this Christmas!
Motivated by the desire to volunteer his time and help vulnerable people in need, Geoff packed his bags and moved to Los Angeles.
Since then, he has spent time providing food and water at one of the largest homeless neighbourhoods in the United States.
However, finances were too tight to allow Geoff to fly home for Christmas to visit his family and his aging grandparents.
With some help from Home for the Holidays, Geoff got the chance to spend the season together with his family!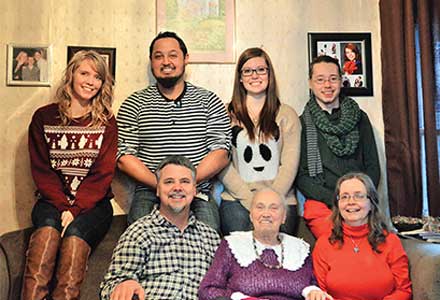 The Thorimbert Family
2014 Contest Winner
After the loss of their son-in-law Nathan, Cyndy and her husband, Grant, wished for nothing more than to have all their children home to share the holiday season together.
With their family scattered in provinces from British Columbia to Alberta, we were able to unite the entire family here in Ontario – an act that we hoped honoured Nathan, and reminded the Thorimbert family of the love and support that only a family bond can provide.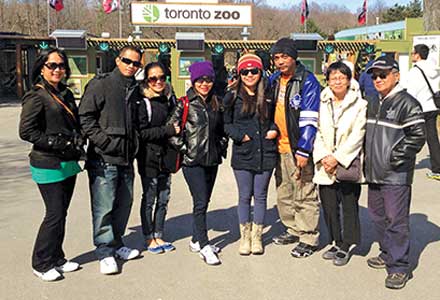 The Villena Family
2013 Contest Winner
A long visa approval process might have prevented a holiday get-together, but in the end, no passports or country borders could stop this family reunion.
We are so excited to announce the Villena family was finally able to connect!
Paola moved to Canada with her grandparents from the Philippines after her parents passed away.
Her aunt, uncle, and cousin remained in the Philippines and have never been to Canada.
It has been a long 7 years since the Villena family has been together.
While we hoped they would be able to reconnect over the holiday season, we are honoured that we could make it happen despite the delays.
Must be 18 to be eligible. Must come in person to redeem the prize when notified.

To enter a competition you must be: (a) an Ontario resident; and (b) 18 years or over at the time of entry.

No purchase necessary.

Only one entry per person.

Submitted stories will not be returned.

Benson Kearley IFG employees and their relatives are ineligible.

No responsibility can be accepted for entries that are lost or delayed, or which are not received for any reason.

The contest winner will be notified by email or telephone details supplied by the contestant.

The prize will not be transferable to another person.

No part of a prize is exchangeable for cash or any other prize.

If an advertised prize is not available, we reserve the right to offer an alternative prize of equal or greater value.

Incorrectly completed entries will be disqualified.

Benson Kearley IFG reserves the right to amend these rules at any time.

The winner(s) must be willing and available to participate in a filmed interview, which we may be used in any digital and or print media managed by Benson Kearley IFG

The contest prize enables the winner(s) to fly family members to the Greater Toronto Area. It does not enable the contest winner(s) to travel to visit family members in a different region.
We want to protect the privacy of visitors to our website.
Please read the following policy; it will help you to understand how we use your personal data.
Whenever you give us personal data, you are consenting to its collection and use in accordance with this privacy policy.
IMPORTANT NOTE: If you are eighteen or under, you must obtain your parent or guardian's permission before you send us any personal data.
HOW DO WE USE YOUR PERSONAL DATA?
For this competition, we collect stories. We retain the right to use these stories in their original or amended forms. No submissions will be returned.
We use your personal data to: answer your queries, run any competition you may have entered, to process and fulfill your orders, to notify you of your order's status and to contact you if there is a problem with your order.
We use the information you supply about subject interests in order to shape our future marketing strategy and also so that we may send you targeted information about new products and services from Benson Kearley IFG, and to inform you about changes and improvements to our website, and for direct marketing purposes (but we do give you the option to opt-out of this).
We may also use your personal data to monitor the use of our website, to record traffic flows and to carry out research about our visitors' and customers' demographics, interests and behaviour. We do this to understand our visitors, customers, and potential customers better.
We use traffic data (see above) to help us understand which areas of our website are most popular so that we might better develop the design and structure of our site, and to market our own electronic communications services and to provide you with value-added services, such as targeted information about our products or promotions such as competitions. You may withdraw your consent to our use of these data at any time.
Whenever and wherever we collect, process or use personal data, we take steps to ensure that it is treated securely and in accordance with our privacy policy.
DIRECT MARKETING
We may contact you by email to market our goods and services, but you may at any time request us to stop using your personal data for direct marketing purposes.